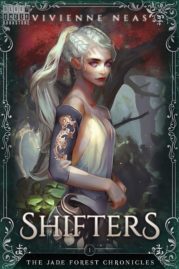 $2.99
Free!
Print Length: 208 pages
Published on: Nov 26,2016
Language: English
ISBN-13: 978-1370721191
A world within a world – a world within our world.
In Shifters, the first book of The Jade Forest Chronicles, trouble is brewing within 'In Caelum' between the preternatural creatures who live in the secret reservation within the world of humans. Amber Vale is a young and beautiful fae, and with her sharp wits and keen intelligence she is chosen to be the arbitrator over a land dispute – a cemetery imbued with enormous magical power. Little does she know that this won't just be another job, or that another power will come into play here: the power of attraction.
When she meets the strong, handsome and masculine werewolf Balfour, he is just as unprepared as she is for the intense desire and raw emotion that blossoms immediately between them. As the turmoil unfolds and grows, with witches and werewolves battling for supremacy in a conflict that looks like could become an all-out war, Balfour and Amber find themselves torn between their loyalties – Balfour to his pack, of which he will become the alpha, and Amber to the laws of the fae – and their love for one another.
In this exciting, passion-filled paranormal romance, unexpected twists, betrayals, lies, passion and steaming hot romance will keep you turning pages from the first to the last, and you're guaranteed to develop an insatiable hunger for every book in The Jade Forest Chronicles series.
DIRECT LINKS TO YOUR PREFERRED STORE: